Image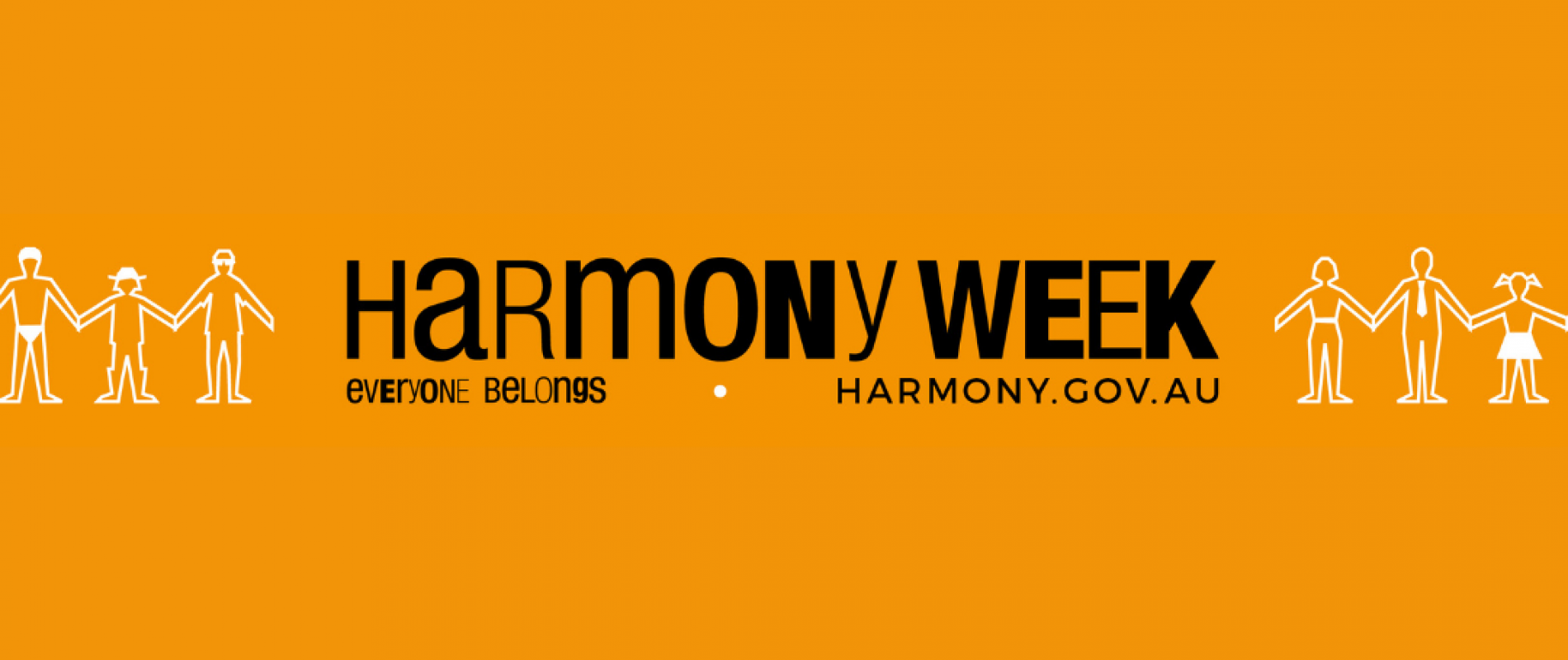 Look after your mental health in Harmony Week!
Harmony Week is happening right now and goes from Monday 21 March – Sunday 27 March.
Harmony Week is a time to embrace Australia's cultural diversity and celebrate the rich cultural and linguistic contributions within our community.
The message of Harmony Week is "everyone belongs".
We know that belonging in a community is important to our mental health. As an individual or organisation it is important we support people from different countries, cultural backgrounds, and experiences to help them feel included, respected and have a sense of belonging.   
The message of respect and belonging can be lived by each of us, every day, not just during Harmony Week.
Sadly we know that often people from culturally and linguistically diverse (CALD) backgrounds are not treated equally because of how they look or where they come from. This is amplified by challenges such as language barriers, stigma, trust and lack of information when it comes to seeking and receiving the right type of support and care for their mental health and wellbeing.
Embrace Multicultural Mental Health (The Embrace Project) is committed to ensuring people from CALD backgrounds feel included and have access to mental health care and resources in a culturally accessible format.
The Embrace Project has put together a list of helpful resources in English and many other languages below to support you to look after your mental health in Harmony Week. 
Embrace Translated Fact Sheets 
Mental health and illness is complex. It is even harder to understand when English is not your first language. 
The Embrace Project has developed translated fact sheets in the following topics:
Mental Health and Wellbeing 
Getting professional Mental Health - What are the steps?
Depression 
Schizophrenia 
Trauma 
Bipolar Mood Disorder 
Eating Disorder
Personality Disorder 
The fact sheets are available in 20 languages: English, Arabic, Assyrian, Bengali, Burmese, Chinese Simplified, Chinese Traditional, Dari, Dinka, Farsi/Persian, Greek, Hazaragi, Italian, Karen, Nepali, Punjabi, Spanish, Swahili, Tamil and Vietnamese.
Additional fact sheets are available on the following topics:
What is mental illness?
What is an anxiety disorder?
challenging behaviors
Supporting parents and families: the mental health and wellbeing of children and young people
Click here to access the fact sheets.
New 'Look after your mental health' Videos 
In collaboration with members from the former Embrace Lived Experience Group, the Embrace Project has developed videos of members speaking about how they look after their mental health.
The videos come in five languages: English, Arabic, Hindi, Bosnian and Japanese. You can check out the individual videos on the Embrace YouTube channel via the links below.
5 Ways to Wellbeing Translated Fact Sheets 
'5 Ways to Wellbeing' introduces you to five simple and effective ways to improve your psychological and emotional health that are based on extensive international research.
The 5 Ways to Wellbeing are:
Connect
Be active
Keep learning
Be aware
Help others
Translated fact sheets on the '5 Ways to Wellbeing' are available in ten languages: Arabic, English, Greek, Hindi, Italian, Persian, Sinhalese, Standard Chinese Mandarin, Turkish and Vietnamese. 
click here to access the fact sheets.